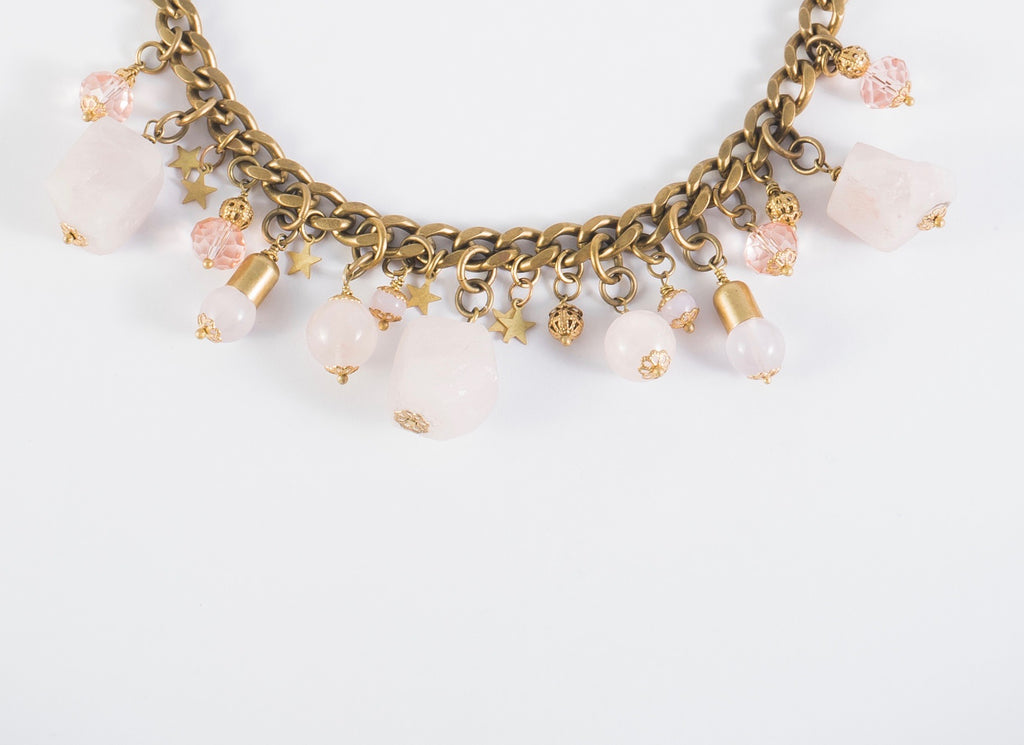 Our Necklace Range: A Heart of Crystal
by WAIATA Gallery
The necklace range is a special piece of Waiata Jewellery. The crystal sits right at the heart of your being, giving the crystal chance to seep and spread calmness to every fibre of your body.
Our Waiata necklaces are hand crafted, beautifully woven from the finest metals, centred and finished with hand-cut crystals and most importantly, made to your custom order.
Waiata wanted to design necklaces that were of course premium to the touch, heavy to hold and cool on the collarbone. What makes these pieces unique is the natural material, the craft and heart that is poured into each and every link in the chain, the precision woven into every knot of gold-plated steel that holds every precious crystal.
Take our Rosie Royal [linked], a heady mix of Rose Swarovski crystals, Rose quartz beads and raw Rose quartz crystals make for an opulently stunning piece.Chunky natural and real, this is the epitome of a CHARMING necklace, very elegant and very dreamy. We've nicknamed this piece the LOVE necklace because it will attract a lot of it.

Our necklaces are a very special purchase and make the ideal gift for a loved one, friend or family member.
If you're interested in discovering more about the power of crystals and the crystals that are right for you, follow the crystal pages on our website, or try our crystal finder to unearth the crystal that speaks to your soul above them all (coming soon).